personal blog
twitter
facebook
theme by:
dek
powered by:
tumblr
I thought I'd be posting new music day and night this summer. I didn't. There were interruptions, and I just wasn't feeling how I thought I should. So what a better time to re-launch the blog than a week or so before I head to uni. This is an update on some of the music I would have been posting had I been on here.
Paloma Faith surprised me with how good her album was.  Here's an acoustic performance of "Black & Blue", the highlight of the album for me. BJ The Chicago Kid also impressed me with "Pineapple Now-Laters". The Kendrick Lamar assisted "His Pain II" is my favourite off the record, I highly recommend you check it out.
Elsewhere John Newman did his best Maverick Sabre impression on Rudimental's "Feel The Love", Little Boots got her Kylie on with "Headphones" and Aiden Grimshaw surprised us all (well, me) with "Is This Love" and "Curtain Call". All good songs.
This could end up taking a while, so I'm gonna fire loads of tracks at you like they're copies of Beyoncé's "4" and you're Keri Hilson. Beach House's "Myth", The Vaccines' "Teenage Icon", Tanya Lacey's "Greatness", Robin Thicke's "All Tied Up", M.I.A., Azealia Banks & Missy Elliott's remix of "Bad Girls", Wynter Gordon's "Stimela", Rusko's "Somebody To Love", Ellie Goulding's "Hanging On" and "Anything Could Happen", Plan B's "Lost My Way", Bloc Party's "Octopus" Blood Diamonds/Grimes "Phone Sex", Crystal Castles' "Plague,", Pusha T & Kanye West's and "New God Flow", Kendrick Lamar's "Swimming Pools (Drank)" are all good to great tracks from impressive albums. Except for cases in which the album isn't released yet. Or it's not that good at all to be honest…
And since I'm being negative here are some of the disappointments of the past few months. Maroon 5's "Overexposed" saw the band become a vehicle for Adam Levine's solo career, releasing generic Max Martin made for radio tracks that are a million miles away from what made them so good in the first place. On the other hand Alexandra Burke shocked no one by releasing a generic dance album, and became hated by the whole of twitter. No one really knows why. Not even the amazeballs good Rui De Silva remix of "Let It Go" could save her from becoming a 2nd rate Ciara. It's was so popular that youtube had to remove it due to constant crashing. Good luck finding it now. And on another bum note, Rita Ora didn't live up to the hype and released a forgettable debut album. Maybe it's a grower, but some of the tracks have been floating around RocNation for 3 years now, so I somehow doubt it.
I didn't want to put Mariah Carey in the disappointment section, so here she is, in her own little private box. "Triumphant (Get Em)" isn't that bad at all. In fact it's quite good. But just a little bit good. Despite a strong melody, Mariah doesn't even sing lead on her own lead single. Plus the mixing and layered have resulted in some strange sounds and incomprehensible lyrics. Don't even get me started on Mariah being the ring girl and Rick Ross throwing money at her like she's a stripper in the music video.
Let's go back to being positive though. AlunaGeorge slowly became another one of my favourite new acts, with the likes of "You Know You Like It", "Just A Touch", "Your Drums, Your Love" and Rustie collaboration 'After Light". Aluna's smooth, high pitched tone against George's futuristic R&B productions makes for the perfect combination. Julio Bushmore also brought the good stuff with the amazing "Au seve".
There were also some pretty good comebacks over the past few months, with even Brandy releasing the brilliantly restrained "Wildest Dreams" as the second single off "Two Eleven", after the slightly disappointing Chris Brown collabpration "Put It Down". After some disappointing material, Keyshia Cole also came back hard with the Hip-Hop influenced "Enough Of No Love". Despite an awful single cover, the track is easily Keyshia's best effort since "Let It Go" and possibly one of the best R&B songs of the year. Even the gremlin sounded good on this one.
No Doubt also came back on form, with the equally good "Settle Down" & "Push and Shove". Another one of 2001's finest, Aaliyah, also gave us some new material in the form of the 40 produced "Enough Said". Apart from Drake cursing in a diss towards Chris Brown (on an Aaliyah record, really?), it's a great track with an atmospheric production that perfectly compliments Aaliyah's vocal delivery. Her lyrics towards the end are particularly beautiful.
Speaking of beautiful, Jessie Ware's album is gorgeous. With romantic lyrics alongside 80s R&B guitar solos and eclectic choice of sounds, it is completely mesmerising. Plus Jessie has one of the nicest voices in the industry right now. Listening to the likes of "Sweet Talk" is more than enough to prove that. Delilah also released a great album, with "From The Roots Up" containing substantial lyrics wrapped in atmosphere. The studio version of "I Can Feel You" is a perfect example of that.
I don't even know where to begin with Frank Ocean's "channel ORANGE". The poetry in there is just absurd. I'll speak on that album along with Nas' "Life Is Good", Elle Varner's "Perfectly Imperfect" and Azealia Banks' "FANTASEA" when reviewing my favourite albums of the year. "Pink Matter", "Trust", "Stop The Clock" and "FANTASEA" are my current favourites off the 4 records though, so give them a listen.
Paloma Faith // Feel The Love (Radio 1 Live Lounge Cover)
I'm too nice, aren't I? Scrolling down my blog, all I've got to say about music is that it's "good" or "brilliant". Maybe that's because I'm only posting good music, but maybe I'm just too nice. Okay, I was a little bit mean about Sky Ferreira, but that's it. You'll have to go through a load of pages to see me criticising someone without giving them a backhanded compliment to sugar coat it. Oh well.
That rant exists because I just had to say that Paloma Faith's "Fall To Grace" is an excellent album. If you haven't heard "Just Be", "Black & Blue" or "Freedom", go listen to them now. Now she's given me something else to fawn over, with her live lounge cover of Rudimental's "Feel The Love" yet again gaining my praises. Ditching the drum 'n' bass of the original, Paloma turns the song into a 90s power ballad, with a bouncy piano accompanying her rich vocals. So now I have to finish off this post with yet another compliment and conclusion; Paloma has delivered a beautifully soulful cover with this performance, and make sure you check her album out. There you go, job done.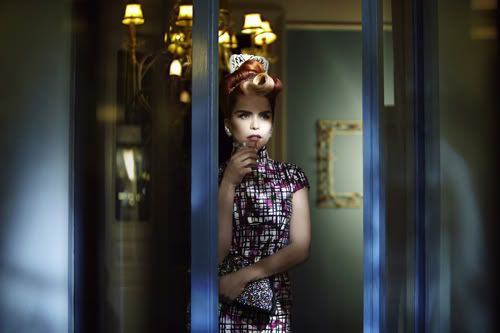 Paloma Faith // Picking Up The Pieces
I really didn't like Paloma Faith at first, after hating her debut single "Stone Cold Sober". It took me a while to admit that she was actually rather good, but songs such as "Smoke & Mirrors" and "New York" eventually convinced me.
Now she's back with her second album "Fall To Grace", set for release May 28. "Picking Up The Pieces" is the lead single from the album, debuting on Fearne Cotton's Radio 1 show earlier this morning. It's a progression from the material on the Hackney singer's debut album, as Paloma deals with having to pick up the pieces of her lover's past relationships in the emotional mid-tempo number.
The Production takes a back-seat on the track, as Paloma's stong, heartfelt vocals take the centre stage. That's not to say the song hasn't been excellently produced, they just don't allow it to overshadow her beautiful voice. A chiming xylophone alongside the grandeur of a string arrangement make for a great introduction, before a catchy piano melody and some guitars arrive to make the track sound a lot fuller. It reminds me a bit of Emeli Sandé's "Next To Me", in the respect that it's a light, yet powerful, soulful midtempo, with bags of emotion, that is perfect for UK radio right now.
"Picking Up The Pieces" has the broad appeal of a Natalie Imbruglia song ten years ago, in the sense that it's very radio friendly, has an extremely melodic chorus, yet contains all sorts of melancholic emotions. Despite the song's doubtful lyrics, there's still a glimmer of hope in there as Paloma's strong vocal delivery shows that she is still fighting for this relationship to survive. I guess it's that ability to create various feelings within the listener, that can make a pop song so good.