personal blog
twitter
facebook
theme by:
dek
powered by:
tumblr
Nelly Furtado // Spirit Indestructible
Nelly Furtado should serve as an example for all pop stars; a 6 year gap between English albums will probably mean that the general public will have forgotten about you. Unless you had a wardrobe malfunction at the Superbowl. The public will never, ever forget about that.
Nelly Furtado's "Big Hoops" didn't really do anything outside of the UK, did it? It's a great song no doubt, but with US radio churning out the same old safe music at the moment it was never really going to do that much. So Nelly did the sensible thing and postponed her album so she could release another, presumably more radio friendly single before the release date. Except the new song's not really that radio friendly.
With pounding drums and chopped beats, "Spirit Indestructible" picks up where the last single left off. There's even a cool messed up, jumpy outro to end it all with a bang. Sure, the lyrics of self-empowerment and breaking free etc are more suited to radio's 'don't ever think that you're less than perfect cuz baby you're a firework and should stay true to who you are' ways - but even with a splash of electric guitar and muted keys this sounds like nothing they're playing on radio right now.
It's a nice song that has 'Nelly Furtado' stamped all over it - but it's just not as good as it had to be to make this project a success. It's not as good as the singles from "Loose", and I definitely much preferred "Big Hoops". It was bigger and better. I do like this, but Nelly sadly serves as a warning to all pop stars who want to take 5 years off to have babies and a life. Don't do it, you'll flop. Unless you're Sade. Sade never flops.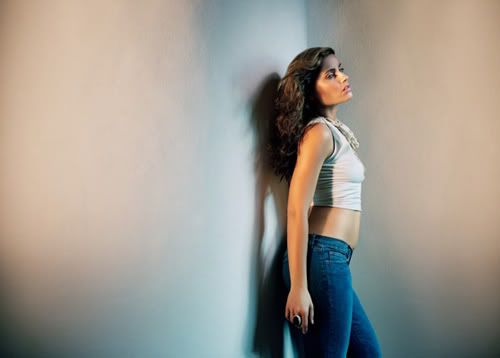 Nelly Furtado // Big Hoops (Bigger The Better)
It's been six years since the juggernaut that was "Loose". That's a long time in the music industry, but finally Nelly's coming back with upcoming album "The Spirit Indestructible". Sure there's been a Spanish album, a Greatest Hits with some dreary new songs and some features, but this is what we've really been waiting for from Ms Furtado - the big follow up.
And she's come back with a song about hooped earrings. The bigger they are the cooler you are - but of course you already knew that, right? However I take it you didn't know that everytime a guy passes by Nelly she says "no diggity no doubt". Well it's true, that's what she says. Fun lyrics like that save this from being a 'heels so high, drink in the air, let's go yeah yeah yeah' type song. But Nelly's never been like that, so I never expected it from her.
Furthermore the sound of "Big Hoops" definitely separates Nelly from her peers. Instead of doing the normal comeback thing and teaming up with Pitbull on a four to the floor RedOne clone, Nelly's teamed up with the genius that is Rodney Jerkins to create a quirky urban jam. Darkchild has done his thing on the beat, with heavy drums and an undercurrent of synths proving that bigger is better in the end. This urban-jungle sound may be a bit too harsh for radio, but it's a perfect progression from Nelly's Timbaland sound back in 2006.
And just when you thought this comeback was near enough perfect, the last 30 seconds of the song comes in. You thought it was over? No. On top of the countless choruses and hooks there's a mental drum 'n' bass breakdown, before some Matrix slow-mo ish. It's crazy. My only complaint is that Nelly's vocals sound like a chipmunk take some getting used to in places, but apart from that Nelly's touched the sky with her return.
Nelly Furtado // What You Want To Do (The Night Is Young)
In 2006 Nelly Furtado switched up her sound and took a u-turn giving us a new Timbaland assisted sound which surprisingly worked, as 'Loose' was an amazing album. Since 2006 she's delivered a Spanish album 'Mi Plan', but what we've really been waiting for is her strong point; a fourth English album. Well we might have to wait some longer…
'What You Want To Do (The Night Is Young)' is the first single off Nelly's Greatest Hits album, so it seems like we will have to wait for the fourth album (currently titled 'Lifestyle) some more as Nelly needs inspired. And with a lead single so dire she certainly needs inspired. The single which originally leaked as 'Free' is a disappointing effort as Nelly hops on the electro/dance bandwagon but doesn't pull it off half as well as her peers. This song just doesn't have the chorus or production to make up for the lack of creativity, which really is a pity. Plus the title is a bit of a mouthful, eh?
Let's hope that this is just a one off and that Nelly hasn't lost her spark…