personal blog
twitter
facebook
theme by:
dek
powered by:
tumblr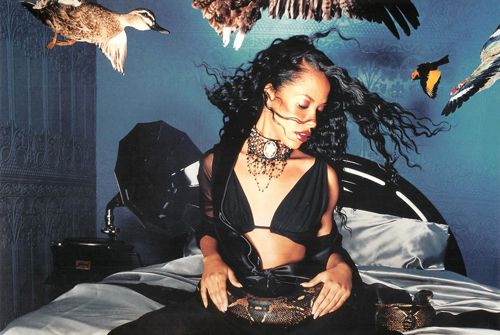 Aaliyah // Quit Hatin'
Despite Drake acting like an idiot by putting a Chris Brown diss in a posthumous release, 'Enough Said' was one of my favourite tracks of 2012. Aaliyah's "came too far to give up, gotta try" riff helped to remind me what I love so much about her music, easily meriting the release of some new material. Her effortless, haunting vocals sounded sublime on top of a sparse instrumental and left me begging for more unreleased material.
'Quit Hatin' isn't technically new as there's been a low quality version of the Knotch & Dre Sinatra track floating about the net for years; but bar some slight tagging we've now got it in all of it's high quality glory. You can hear the yearning in Aaliyah's voice now, as she pleads with her friends to quit hating on her man, whom she loves despite the fact that she knows he's nothing but bad for her.
Cascading snares form the basis of the instrumental, which sounds tense thanks to an off-kilter piano riff and some unnerving sirens in the background. Combined with slow, aching synths, this is another atmospheric Aaliyah track which reminds us just how much she's missed in today's music industry.
Justin Timberlake // Suit & Tie [feat. Jay-Z]
Futuresex / Lovesounds. 2006. An impressive record. 7 years. It was always going to be a tough one to follow up. After a while it seemed like we'd all just accepted that the third album would never happen. Then Justin appeared with this 'I'm Ready' video and we all got very excited. Well, at least I did.
With such a build-up there were always going to be high expectations. Pressing play on the new Justin Timberlake single was always going to be a big moment. So I found a youtube clip, clicked on the red triangle, and this sound erupted from my laptop speakers. I was horrified. It sounded dated and lacked any sort of melody whatsoever. There were tears. It was a very emotional moment.
Then all of a sudden the beat changed and turned the whole track on its head . I suddenly had this revolutionary idea to ditch the crappy laptop speakers and give my headphones a try. It was at that moment that I finally found true happiness.
'Suit & Tie' might not come close to the singles off 'Futuresex / Lovesounds', but that was 2006 when mainstream music was generally in a much better place. This is still a good song. The intro starts off deep. The bass pounds against your ears. Underwhelming, maybe; but still nice. Then this groovy drum pattern enters and it gets very good. Justin's quick paced vocals sound perfect against 70s horns, creating an atmosphere not to dissimilar to that in Snoop Dogg collaboration 'Signs'. Refreshing to say the least.
The chorus is a typical Timbaland affair, but it's his best work in forever so I won't go ape on him for that. In fact, Timbaland did a pretty good job on the production. Sure, it may not have been as forward-thinking as I'd hoped, but I love the way it all slows down and the beat drops out during Jay-Z's verse. Plus the outro is killer. Justin didn't given us the revolutionary material we'd hoped for - in facr 'Suit & Tie' could well end up among his weakest singles in retrospect. However it's a good song, and for that, I'm happy.